DUI Penalties in Hawaii
Get Defense for your Hawaii DUI Today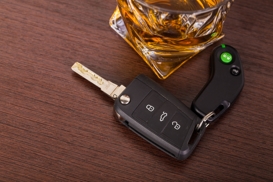 Any type of criminal conviction can be life-changing. In situations involving DUIs and other drunk driving-related offenses, however, you could be facing repercussions on multiple levels. Unlike other criminal matters, DUI offenses will require two hearings: one in the criminal courts and another hearing with Hawaii's Administrative Driver's License Revocation Office.
If you have been arrested for DUI in Honolulu, your case will be time-sensitive. You could only have a limited amount of time to request a hearing with the ADLRO. I, Attorney Kevin O'Grady, have 20+ years of legal experience and am a member of the National College for DUI Defense. I know how to protect your rights, driving privileges, and freedoms.
DUI Convictions in Hawaii Are Costly
Because the stakes can be incredibly high in DUI cases, it will be imperative that you work with a skilled Honolulu DUI attorney as soon as possible. Even first time-offenders could be faced with serious consequences, including a permanent criminal record. DUI convictions in Hawaii carry the following penalties:
Hawaii DUI First Offense
Maximum fines of $1,000 plus other mandatory court cost

Driver's license revocation for up to 1 year

Jail is authorized and the judge may impose it within his discretion

Installation of an Ignition Interlock Device to operate your vehicle during the license revocation period

Alcohol assessment and treatment

Community service
Second offense
Not less than 240 hours of community service work OR not less than 5 days but not more than 30 days of imprisonment, of which at least 48 hours shall be served consecutively
No less than $500 but not more than $1,500 in fines
Revocation of no less than 18 months nor more than 24 months with an ability to drive with the installation of an Ignition Interlock Device (IID) at the driver's expense
A surcharge of up to $50 and a second surcharge of up to $50
Third offense
Class C Felony!
Up to 5 years imprisonment
Former Prosecutor & Military Experience
Whether you are currently facing a Hawaii DUI first-time offense or have been arrested for multiple offenses, you deserve committed advocacy by a devoted legal professional. You need a Honolulu DUI lawyer who not only understands what is at stake in your case – but does everything possible to ensure the protection of your rights, interests, and freedoms.
Some of my former legal experience includes:
Deputy City Prosecutor and Chief Prosecutor
Special Assistant US Attorney
Trial Counsel and Senior Trial Counsel (military prosecutor)
Maricopa County Sherriff's Deputy
Arizona Peace Officer
Legal Instructor in Criminal Law, Evidence, and Ethics
Paralegal Instructor in Criminal Law, Evidence and Ethics
My extensive military training has also instilled a very strong, innate, and primal sense of duty, loyalty, and morality. I apply this same discipline when defending the rights and freedoms of my clients. With every action I take, every decision I make, and every result I deliver, you can tell that I have qualified knowledge of both sides of the fence. My actions are calculated and planned – all for your benefit.
Call for a No-Obligation Case Review
Never failing to understand that a criminal arrest can change my clients' lives, I have a genuine compassion for my clients. I investigate meticulously to secure persuasive defense strategies and fight zealously to obtain favorable evidence. I litigate fiercely to ensure the best possible outcome. I do all of these things because my clients deserve it.
Contact our DUI lawyer in Hawaii today and request your confidential case evaluation.